The Blind Tiger Speakeasy Escape Room Game – King of Prussia, PA
60 Minutes to
Steal the Moonshine
It's the year 1923 and prohibition is in full swing! The powerful mob boss, Maximillian Malone, is making a killing selling his booze at his local joint, The Blind Tiger. You and your mafia gang want in on the action.
All you need to do is get your hands on a bottle of Maxie's Moonshine and you'll be able to give him a run for his money (soon to be yours). Your lookouts have learned that Maxie and his gang will be out on the town tonight, celebrating their continued success, so it's the perfect time to strike!
You'll have exactly one hour to get in and find a bottle so you can replicate his recipe. But don't get caught or you and your crew will be pushing up daisies before the evening's over!
Can you find Maxie's Moonshine before he returns?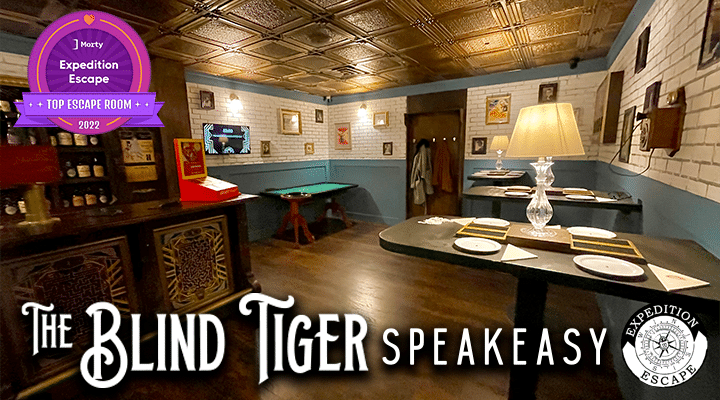 ALL PRIVATE GAMES!
You'll never be with any strangers!
Minimum Number of Players: 2




Recommended Number of Players: 6 to 8


Maximum Number of Players: 12
Our recommend number of players is for those that have experience with escape rooms.
On Saturdays and busy Holidays, we have a minimum number of 4 players.
This game came from an escape room company in Horsham, PA.
While we are very sad that an escape room company closed, we are very happy to be able to give this game a new home and be able to put our own touches on it.
This is a combination of a Giant Dream Productions designed game (with parts of it that could be located in different areas) and an in house designed game by the owners, Marisa and Skylar, of Expedition Escape!