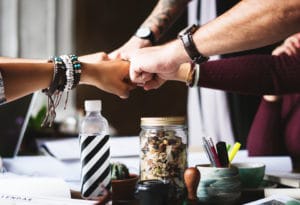 When you're looking for a spot to hold North Wales, PA events for team building, you want a space that can comfortably fit all of your team members. Plus, you want to find an activity that encourages everyone in your group to collaborate and get to know one another better. Here at Expedition Escape, our live-action escape rooms offer all of these perks!
Whether you're coming with a group of five or 25, we will accommodate your team and make sure no one feels crowded. Furthermore, we guarantee everyone will have a wonderful time bonding and working together to solve the puzzles in one of our perplexing escape rooms.
Want to know more about scheduling North Wales, PA events for teams at our venue? Here are the answers to a few frequently asked questions regarding our team-building offerings:
Which room should we choose to maximize team building? Any of them! Whether you select a beginner room or an advanced one, it will require teamwork in order for your group to escape within the time limit. This is just the nature of escape rooms – if you don't work as a team, you won't possibly have enough time to find and decode all of the clues in the room.
What if I'm visiting with a large group? For teams of more than 8-10 players, we recommend opting for our Ultimate Adventure instead of one of the traditional rooms so that no one feels cramped. In this experience, your group will split up into smaller teams to take on the escape rooms. After the adventure, you'll get an hour of access to our private room for discussion or celebration, complete with food and drinks if you'd like to bring them. Currently, this experience can accommodate up to 36 people at our King of Prussia location and up to 50 people at our Montgomeryville location, making it the ideal choice for larger teams.
What are the benefits of visiting Expedition Escape for corporate groups? Our escape rooms aren't your average team-building activity. In fact, we'd like to think that they go above and beyond other activities in terms of creating cohesion among coworkers. That's because the experience is both energizing and unique – chances are, your employees will be thrilled to try one of our escape rooms, especially if they've never done one before. Furthermore, the tasks and riddles in our escape rooms will bring out the unique talents of each team member.
Interested in learning more about the logistics of coming to Expedition Escape for North Wales, PA events? Check out our FAQs page and our escape the room tips!
Start Planning Your North Wales, PA Events Today!
Are you ready to organize an unforgettable team-building event for your group? It's time to reserve your team's spot at Expedition Escape! Just venture to our online booking portal and choose your desired room, date and time. We can't wait to help you host amazing North Wales, PA events that lead to team synergy and fun!