Difficulty Level: Intermediate
Recommended Number of Players: 6-8 (up to 10 players allowed)
This is a challenging room and we suggest coming with a group of 4 or more, especially if this is your first escape room.
Description
You and your cousins have inherited your estranged grandfather's candy shop, which was known for its unique chocolate. Being a rather distrustful old man, Grandpa refused to share his recipe with anyone. When he fell ill, he hid pieces of his recipe throughout the candy shop for his heirs to find so that they could continue his legacy. Unfortunately, Grandpa had not yet finished paying off the mortgage on the candy shop. So, there is still quite a bit of money owned on the property and the bank is running out of patience. If you find the recipe, you can continue Grandpa's business and use the profit to pay back the rest of the mortgage. If you do not, the bank will repossess the candy shop and Grandpa's perfect chocolate recipe will be lost forever!
Can you find your Grandpa's secret candy recipe hidden before the bank closes his Candy Shop for good?
Teamwork Needed
Multitasking
Observation Skills
6 of us escaped from the Candy room with 51 seconds to spare. We tried to work together and that is the key. If you like solving riddles and puzzles, this is for you. We laughed and did a few "duhs,". Try it, you'll like it!
~148dellaa, Tripadvisor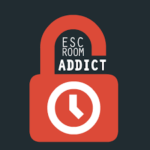 ESC Room Addict is an organization of escape room specialists who provide honest escape room reviews for our online community and social media followers.
They came and played The Candy Shop!
We did The Candy Shop room and it was so much fun! The room was bright and cheery and full of unexpected surprises. We were all 'newbies' to the escape room world and while we did run out of time we did pretty darn well. This was an intermediate room so it was a bit harder than a beginner room, however it really wasn't too far beyond our limits. We had four players and we could have escaped with a couple more. We will definitely return for another adventure.
~deebee2018, Tripadvisor